Prague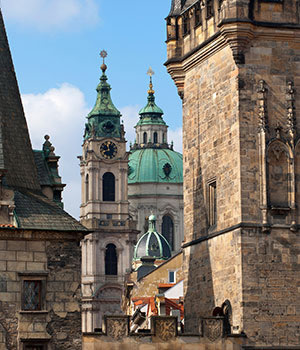 Prague, the capital of Czech Republic is one of the most beautiful European cities.
Nicknamed "the City of a Hundred Spires", it's known for its Old Town Square, the heart of its historic core, with colorful baroque buildings, Gothic churches and the medieval Astronomical Clock, with popular moving figures. The most famous is the pedestrian Charles Bridge is lined with 30 statues of saints, which was built in 15 century.
Prague's famous cultural attractions survived the violence of the war. Main attractions include the Prague Castle, the Charles Bridge, Old Town Square with the Prague astronomical clock, the Jewish Quarter, Petřín hill and Vyšehrad. Since 1992, the extensive historic centre of Prague has been included in the UNESCO list of World Heritage Sites.
Prague contains one of the world's most pristine and varied collections of architecture, from Romanesque, to Gothic, Renaissance, Baroque, Rococo, Neo-Renaissance, Neo-Gothic, Art Nouveau, Cubist, Neo-Classical and ultra-modern.
Due to its genuine beauty Prague is well known as a film location. Many films have been made at Barrandov Studios and at Prague Studios. Hollywood films set in Prague include Mission Impossible, xXx, Blade II, Alien vs. Predator, Doom, Chronicles of Narnia, Hellboy, Red Tails, Children of Dune and Van Helsing.
Other Czech films shot in Prague include Empties, EuroTrip, Amadeus and The Fifth Horseman is Fear. Also, the romantic music video "Never Tear Us Apart" by INXS, "Diamonds from Sierra Leone" by Kanye West was shot in the city, and features shots of the Charles Bridge and the Astronomical Clock, among other famous landmarks. Many Indian films have also been filmed in the city including Yuvraaj, Drona and Rockstar.
Prague is perfect place for a film festival: old movie theatres full of charm, diverse audiences of movie goers - the center of Europe and an inspiration for filmmakers.